BBSindex.de Update (Stats)

2023-01-13 12:01:39
---
Current Statistics are available now.

With the latest update at the BBSindex Website we added a menu entry. The BBS Stats are back. You can see all BBS that are a a part of the BBSindex Stats program if they have delivered any numbers at the current month.

Since not all systems are sending data to every category we have to alter our display. At the end you'll only see colums that are fed with numbers from the bbs.

The access speed has improved a lot. We're down from sometimes 120 seconds to just a few when searching the database.

In the next days/weeks you're able to browse the archive to watch any timeframe you'd like to see.
---
Quelle: bbsindex

ANSI Terminal for iOS

2023-01-09 14:44:32
---
For a long time there was always the ConnectBot App for Android Devices as a Terminal to connect to your favorite ANSI BBS. Now there is finaly a solution for Apple User as well.

The App is called "Muffin Term" and can be found on the offical AppStore. The App is Free, without Ads and it can even emulate several screen looks and retrocomputer fonts. If you're on Mac or iOS you should check it out!

https://apps.apple.com/ch/app/muffinterm/id1583236494
---
Quelle: bbsindex / apple

Amiga User Group Switzerland is planning a meeting

2023-01-08 22:07:23
---
The Amiga User Group Switzerland is planning a meeting for the first half of the Year 2023. As of now there are not many details around that meeting. But they try to find a Date.

At the moment they have three placeholders in the Schedule. It could be the 25 of March or the 01 respectivly the 29 of April in 2023.

There is a Google-Form where you can sign your preferred dates. That will help to determine a fixed date for the AUGS meeting.
AUGS 2023 Scheduling
---
Quelle: bbsindex / augs

Wintermute with a new URL

2021-06-14 15:21:42
---
The Wintermute BBS has changed the connection URL.
It's now wintermutebbs.ddns.net or wintermute.bbsindex.de.
---
Quelle: Lodger / Twitter: @Wintermute_BBS

SyncTERM Version 1.1 is out now!

2020-07-20 13:38:23
---
Today SyncTERM in Version 1.1 was released!
One of the biggest changes in Version 1.1 are the options for the new connectivity. You have the usual old suspects in the list but the new fellow in town is the MBBS GHost option. We also noticed that the SyncTERM windows now scales way better within the Windows desktop environment. It will no longer rescale the desktop resulotion if you force SyncTERM into the fullscreen mode with alt+enter.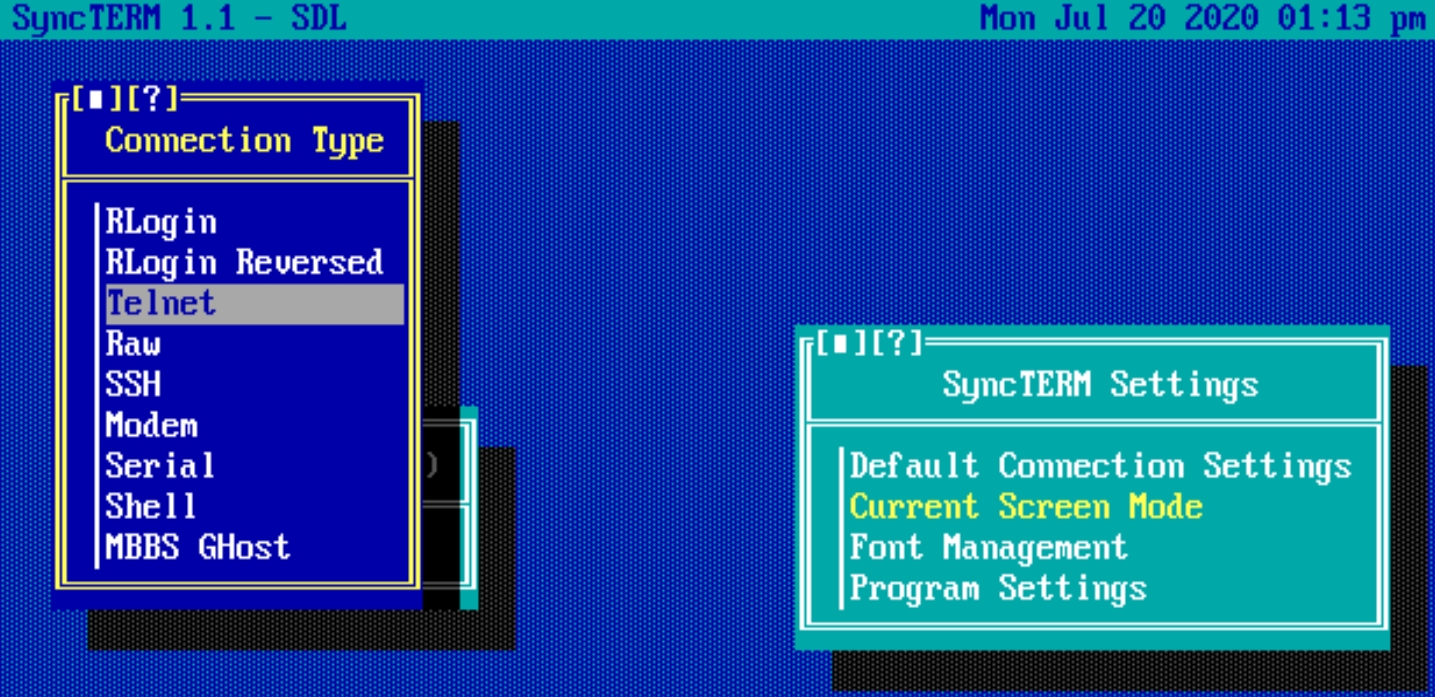 SyncTERM is available for Windows 32 Bit. Other variations for MaxOS and Linux are also waiting for your download.
But there is a major feature missing after all there years. It's the BatchUpload. If you love to be the uploader on your favorite board you should use NetRunner. This terminal has an upload-quene where you can pick up to 100 files to perform a batch upload.
Some Links to SyncTERM 1.1
https://sourceforge.net/projects/syncterm/
---
Quelle: syncterm.bbsdev.net / BBSindex.de

We updated our BBS FileSearch!

2019-11-26 23:29:21
---
Today we updated the BBSindex.de BBS FileSearch. Some Boards that was no longer online are removed from the list. But we added more as we had before. We're now up to 21 Boards and over one Million files!
You can find out more here on BBSindex about the BBS filesearch. Just hit that button in the topmenue of the website.
---
Quelle: BBSindex

Contiki BBS 0.3.1

2019-07-02 14:09:25
---
Some of you may know Contiki BBS. It's a BBS Software for the Commodore C64. Rumors spread across BBSes and Fido-Echos that there will be a new release of Contiki BBS soon.

Here is a statement from the Coder:
Howdy again, dear friends of classic hardware!
Since 2019 marks the 10th anniversary of Contiki BBS (yes, indeed), it would be a shame not to come up with a new release, right? So I'm happy to let you know that coding is being done at the moment for the upcoming Contiki BBS 0.3.1 release. One new feature that is already committed in the code repos at Sourceforge and GitLab is *tadaa* online user registration! No longer will you have to create users beforehand (sort of spoils the fun, doesn't it). Also, the very first user you create (user id# 1) will get full ACL (ACL=255) so it is automatically the sysop user, no matter what name you pick as a username. New users with id# > 1 will get a default ACL of 10. Further work will eventually add an edit function to the user editor (so you can level up all your new buddies logging in).
As I said, the basic changes are already in the master branch and if you want to try them out and if you think you are up to the task of compiling Contiki BBS on your own, just pull the latest sources and off you go. The registration feature does not change the data structures, so you can just replace the old 0.3.0 Contiki BBS server binary with the new one. Please note that the changes made to the setup program (e.g. user editor) are not yet commited upstream (to the public repos)!
An official 0.3.1 release including a working .D64 image and .ZIP file (for SD2IEC installations) is planned for the end of this month, but delays may happen.
The new version will pop up at first at the Wintermute BBS (telnet://wintermute.bbsindex.de) and here: https://sourceforge.net/projects/contiki-bbs/
A Video of Contiki BBS ver. 0.2.7.1 can be watched here: https://www.youtube.com/watch?v=npXbH_g1dlw
---
Quelle: BBSindex, Lodger, FidoNet, BlackICE BBS

BBSindex.de geplante Downtime / BBSindex.de scheduled downtime

2019-05-28 14:29:11
---
Am 01.Juni von ca. 00:30 bis 04:30 Uhr ist BBSindex.de wegen Infrastrukturarbeiten in unserem Datacenter nicht online.
At June, 01 from 00:30 until 04:30 a.m. (Local Time) BBSindex.de will have a scheduled downtime during work on the infrastructure of our datacenter.
---
Quelle: bbsindex

BattleNet is hard down

2019-04-15 13:24:39
---
If you`re a Gamer on BBS systems you might know the Battlenet. It is the network that transports data from interbbs games like LORD, BRE and other titles. With that you can compete with other users from BBSes all over the world without calling another boards as your favorite one.
Today the Sysop of the central hub of the BattleNet sends a mail across to all connected nodes that the system is hard down. During some powerful storm in the US the area where the system is located lost power. Good that some recent backups will come in place so that the BattleNet should back online within the next 24 hours.
---
Quelle: BattleNet

Mystic Relay Chat

2019-02-12 20:43:10
---
Would it not be great to call your favorite BBS, join a Chatroom with a bunch of people inside of it that are not user of the board you called in?
Well... That's possible with the Mystic Relay Chat. It comes with an two splittet client application. One part is an MPL Script that will run with Mystic BBS. This is the part your Users will see. The other part is hmm let's call it a gateway between the MPL-Script and the Server-Connection. That Python based programm finaly connects to the Mystic Relay Chat Server.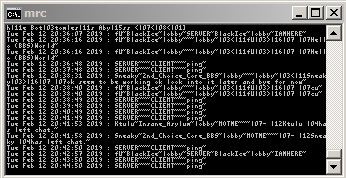 What does the Server serv? So far about 15 BBSes. But it's very likely that more will join in the near future.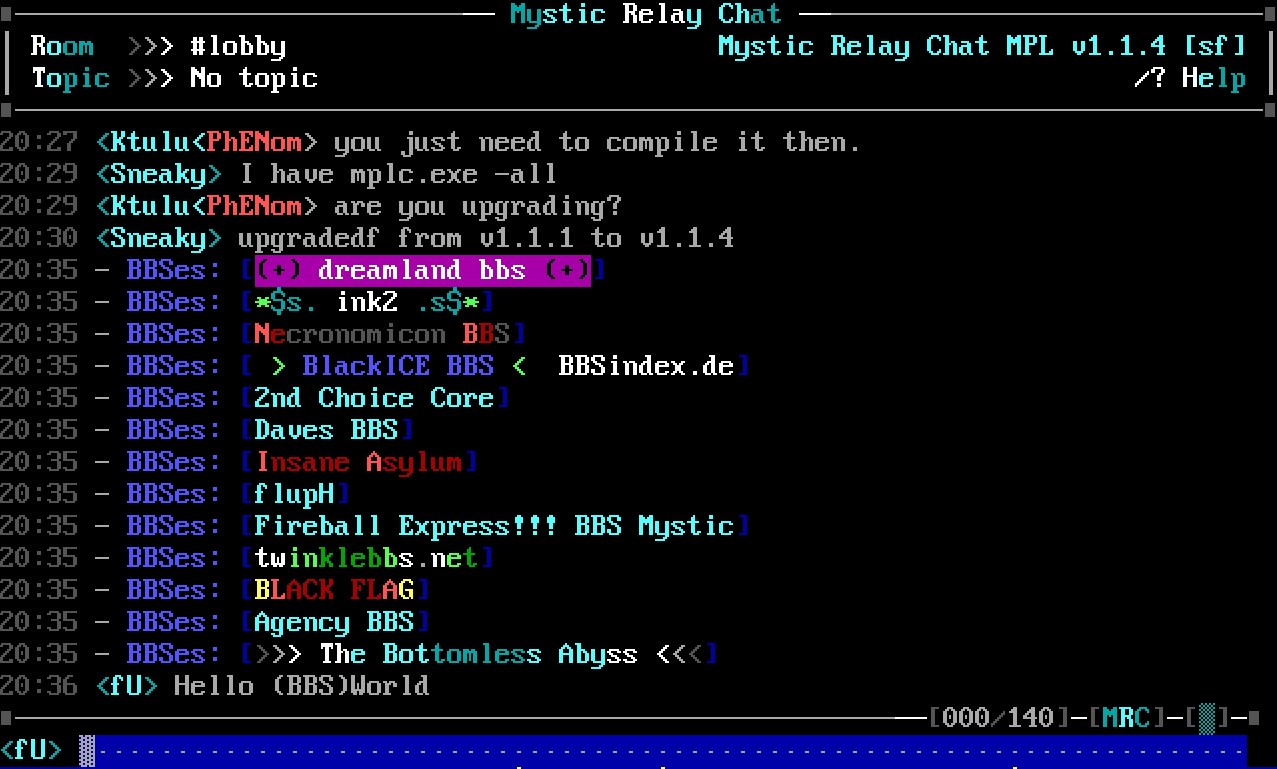 Every User from all connected Boards can chat with eachother.
You can create Chatrooms, design the apperance of your Username and a bunch of stylish and userfull things also!
Needs:
Mystic BBS, Python and 'course MRC itself.
Where?
You can download MRC at the Fluph BBS, BlackICE BBS, Agency BBS and all other ArakNet related Boards. Just perform a filesearch for mrc114sf.zip and you will find the Version 1.1.4
Some additional Infos about MRC:
It was first developed by Gryphon. The newest version contains an updated client (1.1.4) done by Stackfault . Skuz, Sysop from the Fluph BBS hosted a server until the release of Version 1.1.4 Now is the server where you should connect your board to: mrc.bottomlessabyss.net on port 5000. The original client 1.1 from Gryphon is still working. But it's recommended to update. It's also very easy - all you need to know about updating you client can be found in the mrc114sf.zip file.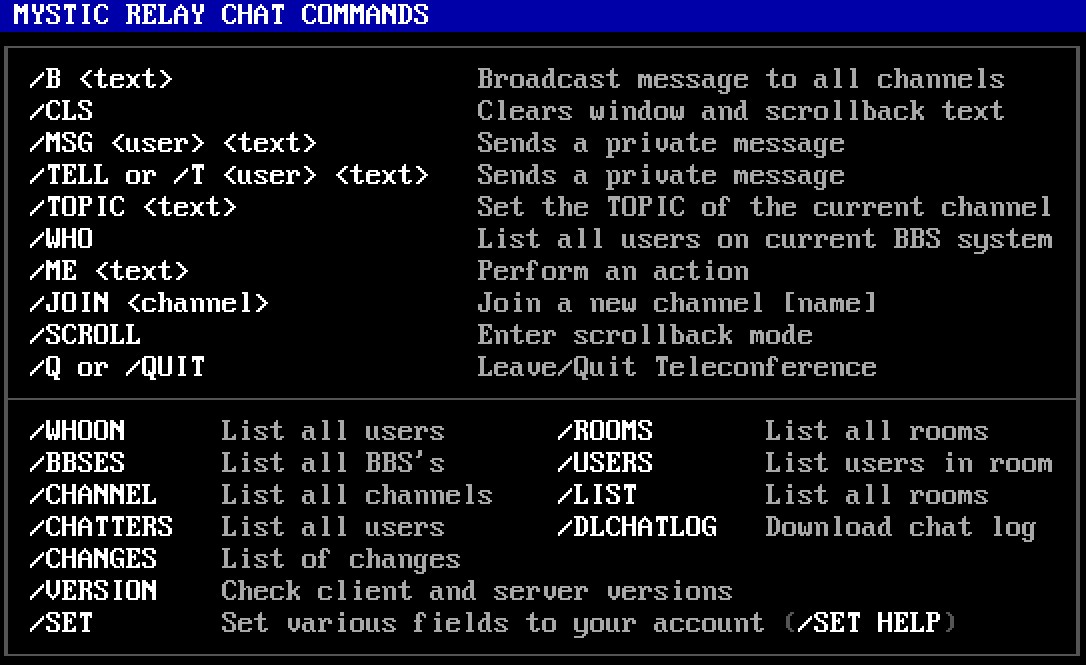 Updates about the MRC Project can be found at the ArakNet and the FSXnet as well. Also every ArakNet Connected BBS will have newest files.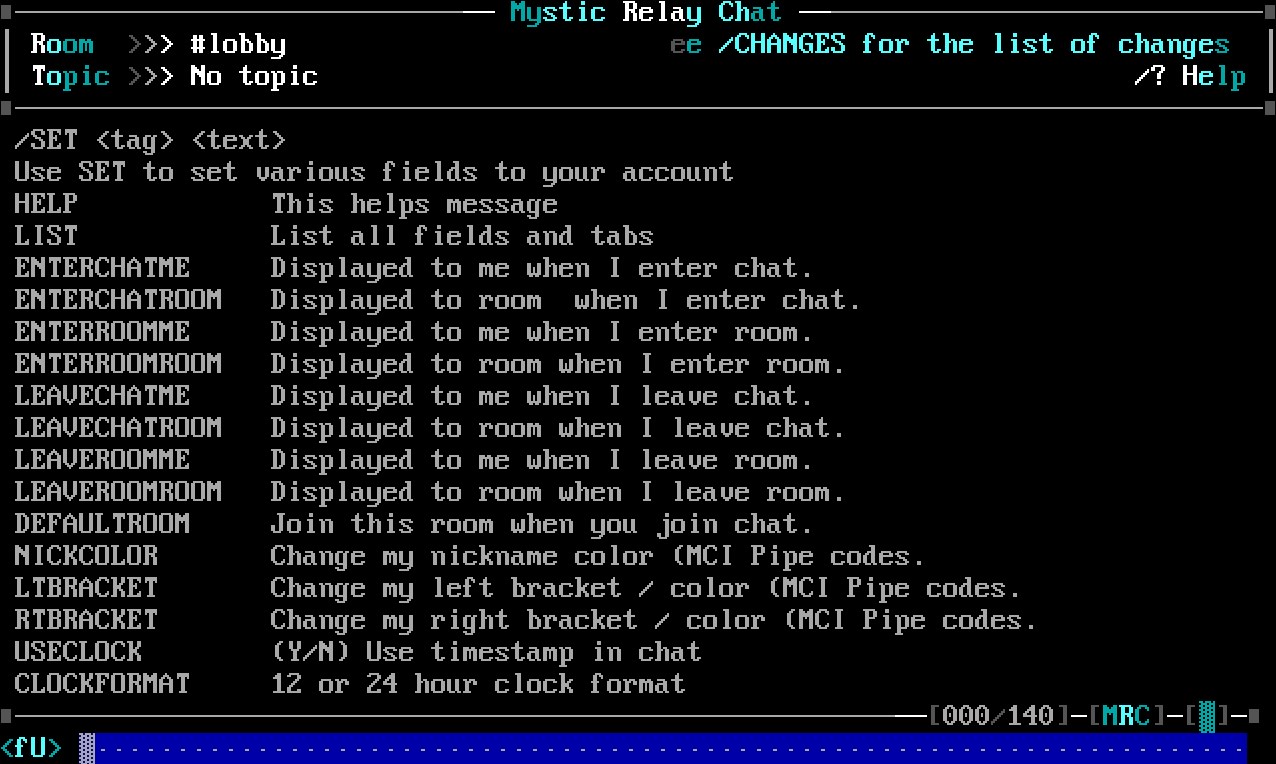 .
---
Quelle: Fluph BBS, ArakNet, MRC