Bamiga Sector One Collection online at the BlackICE BBS
13.01.2018
Some weeks ago first tweets popping up at the Retro-Scene that someone was able to get the collection of an hackergroup.

The group is called Bamiga Sector One (short BS1) and was in the 1990s a very active wide spreaded cracker group in the Amiga-Scene.

I bet everyone who ownes an amiga back in the day had one or more disks in his floppycase with a game cracked by this guys.

In Belgium, nowdays, a car was full packed with boxes. The content: The Collection of the BS1 Group. Almost forgotten on a attic from a former member and now thankfully recoverd by the AmigaClub Belgium.

Simon is now taking action on all this stuff. We're talking here about a hugh amount of disks. What means hugh exactly?

About 75 Boxes and estimated more than 10.000 Disks!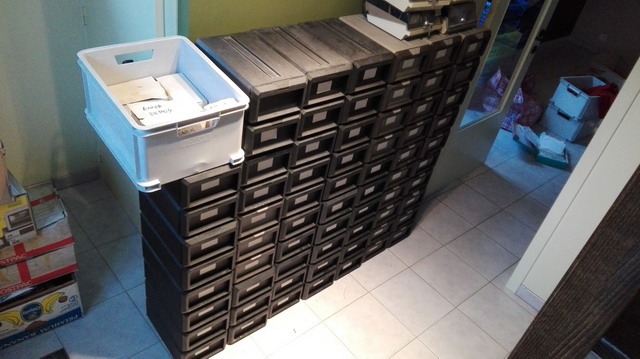 What happend to all the stuff?

Great to have a very sharing community in the Retro-Scene these Days (and according to the spirit of BS1 also thendays....) All the software will be ripped into .adf image files, zipped and uploaded to the AmigaClub.BE webseite.

You want more RetroStyle? Here we go!

The BlackICE BBS has an extra Sub-Area inside the Amiga-Download section created. The Sysop offers the same content as the website with one exception. The Single-Title-Section. Here you can browser and download all files from the cleaned packs.

But be aware! Yes it's the almost biggest collections of games ever, but it was a cracking group. If a virus hijacks your Amiga don't blame us.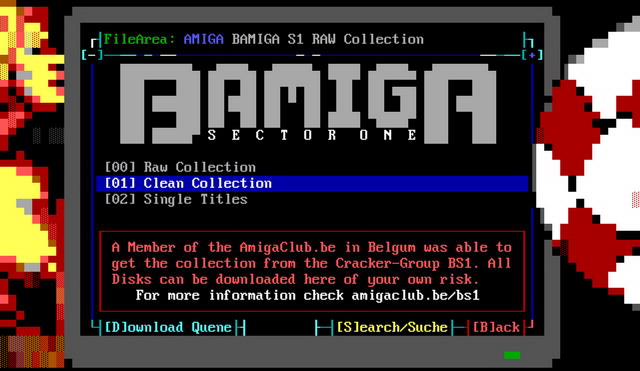 Stop talking! Where i can get the Stuff?!

Dial the BlackICE BBS with an Terminal-Programm like SyncTERM (for IBM machines) or a similar programm for your Amiga and call BlackICE.BBSindex.com:23 via Telnet. The BBS supports ANSI for full retro-experience!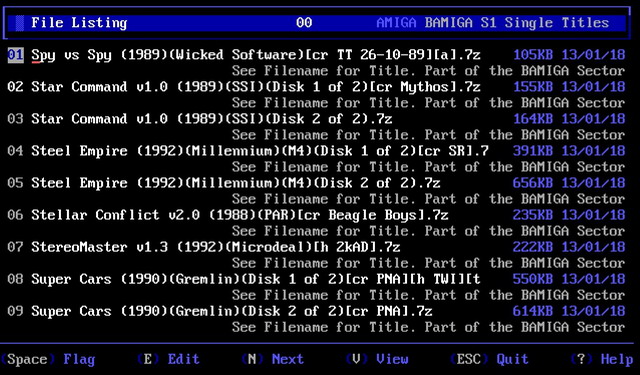 You can create fast an account or have a look with one of the guest-accounts. At the File-Area you will fast found the Amiga-Section. Inside there you can enter the sub-area fresh created and filled with the first files from the BS1 collection.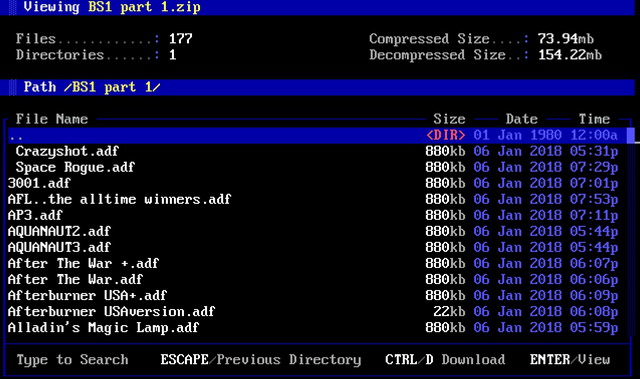 Keep looking for the next weeks. There are just 20% of all stuff online at the BBS and on the Website.

Oh yes the website! The Website of the Belgian Amiga Club can be found unter the URL: www.amigaclub.be

Have a nice leech! BBSindex.de will keep you updated on this!



Quelle: AmigaClub.BE / @AmigaLoManiac
Maintenance / Wartungsarbeiten
11.01.2018
BBSindex.de is from Friday 18:00 until Saturday Morning NOT ONLINE.

The Reason is a physical move of the Server from Frakfurt to Düsseldorf. Yes, BBSindex.de is coming home...

For upcoming improvments on the Server is a nearby location the best deal for the future.

In this timegap you can reach the website and other services like XMPP, BBS-Stats, BBS-List are will be also offline.

More maintenance and offline-times are not scheduled.

Thanks for your understanding!



BBSindex.de wird ab Freitag ca. 18 Uhr bis in den frühen Samstag-morgen NICHT ONLINE SEIN.

Grund dafür ist der physische Umzug des Servers von Frankfurt nach Düsseldorf. Jip, BBSindex.de is coming home...

Die nähe zum Server macht Erweiterungen usw. in der Zukunft einfacher.

In dieser Zeit werden weder Webseite noch andere Dienste wie XMPP, BBS-Stats, BBS-List online sein.

Weitere Wartungsarbeiten mit Onlineausfällen sind aber nicht geplant.

Vielen Dank für Euer Verständnis!

Quelle: bbsindex.de
The BBSindex.de BBS-List in your BBS!
03.01.2018
There is a very small "API" for all Sysops to get the BBS-List from BBSindex.de into there boards.

All you need is an url-grabber like curl.exe (windows) or wget (boarded with linux).

Here is an example for Mystic BBS running under Windows;

Create a new Menue-Entry and enter the following commands:

Command: (DD) Exec external programm
Data: curl "http://bbsindex.de/bbslist/index.php?ansilist=1" >\mystic\text\bbs-list.txt

Command: (GV) ANSI File viewer
Data: ansiviewer;ansiviewerh;0;\mystic\text\bbs-list.txt

NOTE: Make sure that curl.exe is written in SYSTEM PATH= and/or located in \mystic

What's the Voodoo?

The first command will fetch an ascii-copy WITH MYSTIC |COLOR-CODES and dump it into the file bbs-list.txt located in your \mystic\text\ folder.

The 2nd command starts the build-in ansiviewer from Mystic BBS and shows the bbs-list.txt file to your users.

FOR ALL OTHER SYSOPS:

You can use the following URL to fetch an clean ASCII BBS-List without the mystic color-codes and show this version of the BBS-List to your user.

http://bbsindex.de/bbslist/index.php?asciilist=1

I would be thankful for instructions how to set the list up for several BBS Software like Syncronet or other ones.

Please share your knowledge with other Sysops, correct my tiny-tutorial if i missed something or could do it better.

The BBS-List will also spread to the Scene via the BBS-Network. Contact Vitus Zeel@2:240/8001 for more infos about the Network and how you can get the binary version with prebuild phonebooks based on the list.

Should i translate this to german?
Soll ich das noch auf Deutsch uebersetzten?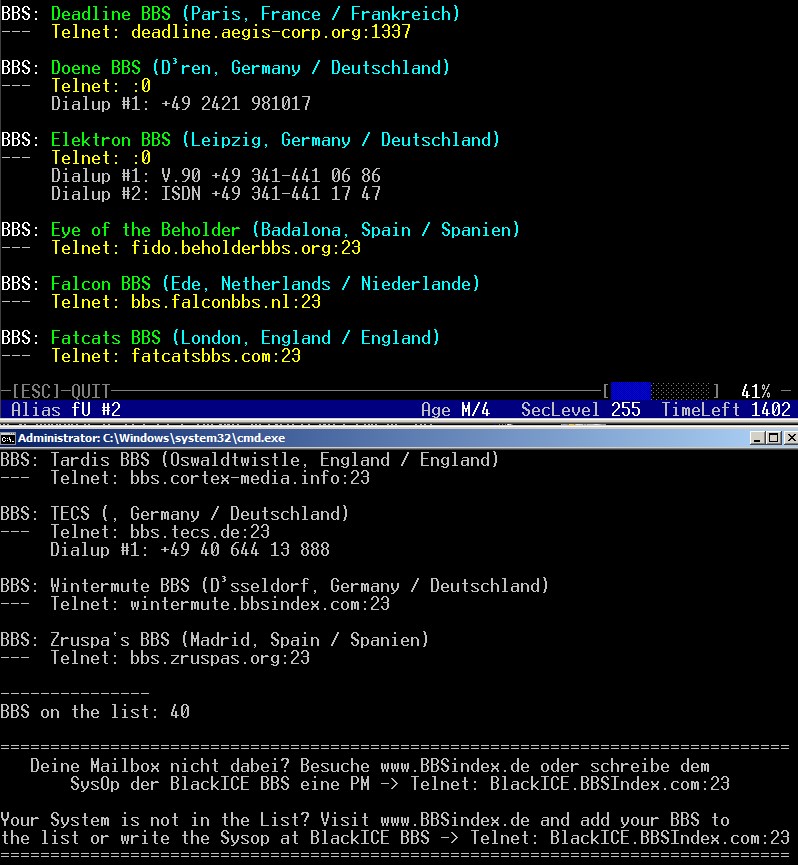 Quelle: bbsindex.de
We start our own BBS-List
01.01.2018
BBSindex.de starts the new year with a big impact on the BBS-Scene.

We offer now our own BBS-List. We merged the European BBS List to the
BBSindex.de BBS - List.

We invite all SysOps from all over the world to add your Board to our list.

The List is available on BBSindex.de, from inside the BlackICE BBS and on all
connected Boards of the BBS-Network [BBSnet]!

Just search for the file BBSindex.zip in any BBSnet Board or watch out for
the Echo called "BBS-Network BBS-List" for a plain text-list.

This archive includes prebuild Phonebooks! You just have to copy the file
you need and you can call all active boards from the list via your
Terminalprogram!

You also can enjoy calling the most Boards via WebTerminal from BBSindex.de.

Quelle: bbsindex.de
Wir starten unsere eigene Mailboxliste
01.01.2018
BBSindex.de startet das neue Jahr mit einem grossen knall in der BBS-Scene.

We bieten jetzt unsere eigene Mailbox-Liste an. Wir haben die Mailboxliste
Europa migriert.

Wir laden alle SysOps aus der ganzen Welt dazu ein ihre Mailbox der Liste
hinzuzufügen.

Die Liste ist verfügbar auf BBSindex.de, in der BlackICE BBS und in allen
Mailboxen die mit dem BBS-Network [BBSnet] verbunden sind!

Sucht einfach nach der Datei BBSindex.zip in einer BBSnet Mailbox oder
haltet ausschau nach dem Echo "BBS-Network BBS-List" für die Text-Liste.

Im ZIP-File befinden sich vorgefertigte Telefonbuch-dateien! Einfach die
Datei die ihr braucht kopieren und Ihr könnt mit Eurem Terminal alle
aktiven Mailboxen aus der Liste anrufen!

Ihr könnte die meisten Mailboxen auf über das WebTerminal auf BBSindex.de
anrufen.

Quelle: bbsindex.de
Update auf bbsindex.de
26.12.2017
Ein Update auf bbsindex.de stellt nach dem sonst ruhigen Jahr 2017 den Jahresabschluss dar.

Es gibt neue Kategorien! Darunter Videos. Hier finden sich alle Videos die unter dem Namen BlackICE BBS erschienen sind. Das aktuellste Video von BBSindex.de ist dort ebenfalls zu finden. Zukünftige Neuerscheinungen werden sich zu den bereits gelisteten dazugesellen.

Quiz

Die ßeta-Version des BBS-Scene und Retro-Quiz wird in Zukunft noch mehr Fragen erhalten. Drüber hinaus ist ein Scoring-Mode geplant. Einen ersten Ausblick gibt es aber bereits jetzt für Euch!

Und wer selbst gerne ein paar Fragen zum Quiz verfassen möchte wird in Kürze ebenfalls gelegenheit dazu haben.

BBS-Statistiken

Eines der grösseren Projekte für das kommenden Jahr sind die Mailbox-Statistiken. Wir haben bereits 3 Mailboxen die daran Teilnehmen. Ziel ist es die aktivitäten der Mailboxscene einordnen zu können.

Aus diesem Grund melden teilnehmende Mailboxen nach einem erfolgreichen Userlogin diesen der Statistikdatenbank von BBSindex.de.

Es können aber nicht nur Anrufe also Logins aufgezeichnet werden. Auch andere aktivitäten wie DoorGames oder die Menge der Nachrichten welche durch die jeweile BBS durchroutet kann erfasst werden.

Im laufe der Zeit kann sich jeder einen Überblick verschaffen wie aktive die Scene noch ist.

In kürze startet die offene Phase. Derzeit nehmen nur die BlackICE BBS, Kuehlbox und Wintermute am ersten Test teil.

Wir hoffen auf rege Teilnahme von anderen Mailboxen aus dem deutschsprachigen Raum.

Für die Zukunft werden Systeme aus allen Ländern willkommen sein. Dafür benötigen wir jedoch noch etwas Erfahrung und müssen eine Zeitzonenkompatibilität einarbeiten.

Quelle: bbsindex.de
BlackICE BBS nach Hardwareschaden wieder online - update 14.12 - 6:32
13.12.2017
Die BlackICE BBS meldete am 13. Dezember um 19:08 Uhr einen Hardwareschaden.

Die Systemfestplatte des Rechners erlag einem Mechanikfehler.

Eine Ersatz-Festplatte wurde bereits installiert. Zur Zeit werden Backups vom System zurückgelesen. Danach sollen Backups der BBS erfolgen.

Alle Daten die auch in die Download-Area der Box bereit stehen sind vorhanden. Zwischen dem letzten Backup und dem Fehler liegen ca. 14 Stunden. Es wird, wenn überhaupt, mit einem sehr kleinen Datenverlust gerechnet.

Dieser beschränkt sich dann auf Echo und Netmails.

Erst einen Tag zuvor wurde eine unregelmaessig auf dem Twitter-Account der BlackICE BBS gemeldet.

Ob dies erste Anzeichen für den Hardwareausfall waren ist bisher noch nicht geklärt.

Genaue angaben wann die BlackICE BBS wieder online geht gibt es bisher nicht.

BBSinndex.de und Twitter.com/BlackICEbbs wird weiterhin updates für Euch haben.

-Update-
14.12.2017 01:32

Das Betriebssystem ist bereits vollständig einsatzbereit. Auch alle nötigen Komponenten rund um die Box sind in den Startlöchern.

Das zurück kopieren der vielen tausend Dateien dauert deutlich länger als anfangs erwartet.

Die wiedereröffnung der BlackICE BBS ist jetzt zwischen 8 bis 14 Uhr angesetzt.

-Update 06:31-

Die BlackICE BBS ist wieder online. In ca. 9 Stunden wurde eine defekte Festplatte ersetzt und das ganze System wiederhergestellt. Zwei Stunden vor dem angekündigten Zeitfenster hieß es auf Twitter das die Box bereit und hungrig auf anrufe ist.

Es besteht weiterhin ein Fehler beim sortieren von Nachrichten. Es werden semaphore Dateien geschrieben ohne, dass die entsprechenden Trigger dafür ausgelöst werden. Das verhindert derzeit noch das vollautomatische sortieren von Nachrichten. Point und Nodes die mit Area/FileFix befehle ausführen wollen müssen unter Umständen mehrere Stunden auf Antwort warten.

Der Podfetcher, welcher die Podcast zum download innerhalb der BlackICE BBS bereit stellt updated ca. 7 Monate nach. Dadurch kann die Leitungsgeschwindigkeit beeinträchtigt werden.

Und so landet eine weitere Festplatte auf dem Hardware Graveyard der BlackICE.

Auf Twitter erhielt der SysOp der ICE unterstützung durch Favs oder Nachrichten.

Quelle: twitter.com/BlackICEbbs
Downloads auf bbsindex.de
28.11.2017
Es wurde eine neue Kategorie eröffnet auf bbsindex.de. Bisher ist es eine kleine Seite mit BBS bezogener Software. Im Moment gibt es dort Terminal und Point Software.

Wir hoffen mit der kleinen Auswahl den Zugang zu Mailboxen zu vereinfachen. Vielleicht sogar, dass jemand ein Point wird.

Haben wir wichtige Software vergessen? Dann lass es uns bitte wissen!

Quelle: bbsindex.de
Downloads at bbsindex.de
28.11.2017
A new category has opened on bbsindex.de. It's a small page with BBS-Related Downloads. For now, we have Terminal Software and Point Software to offer.

We hope this little selection will give an more easy way to access Boards and/or become a Point.

Let us know, if you're missing some important software at the tiny downloadsection on the page.

Quelle: bbsindex.de
I want to believe - If it is just us... seems like an awful waste of space.
30.08.2016
The BlackICE BBS starts the search for extraterrestrial intelligence with the Seti@Home project.

What is SETI? and SETI@HOME?

The search for extraterrestrial intelligence (SETI) is a collective term for the scientific search for intelligent extraterrestrial life. For example, monitoring electromagnetic radiation for signs of transmissions from civilizations on other worlds.

SETI at home is an Internet-based public volunteer computing project. Hosted by the Space Sciences Laboratory, at the University of California, Berkeley - USA. Its purpose is to analyze radio signals, searching for signs of extraterrestrial intelligence capture by the Arecibo radio telescope.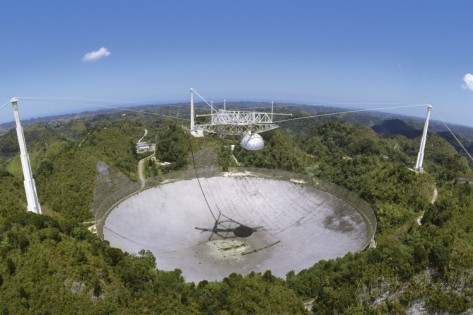 Observational data are recorded on 2-terabyte SATA hard disk drives at the Arecibo Observatory in Puerto Rico, each holding about 2.5 days of observations, which are then sent to Berkeley. Arecibo does not have a broadband Internet connection, so data must go by postal mail to Berkeley.

Once there, it is divided in both time and frequency domains work units of 107 seconds of data, or approximately 0.35 megabytes (350 kilobytes or 350,000 bytes), which overlap in time but not in frequency. These work units are then sent from the SETI@home server over the Internet to personal computers around the world to analyze.

And the BlackICE BBS spends now a part of its CPU time to the Seti@Home Project. The installed Software, called BOINC can be scaled in many ways. The Board or other processes running on that machine are not affected with the higher CPU load.

Of course, you can watch the status in the BlackICE BBS itself. You will find a new entry under the SysInfo-Menue!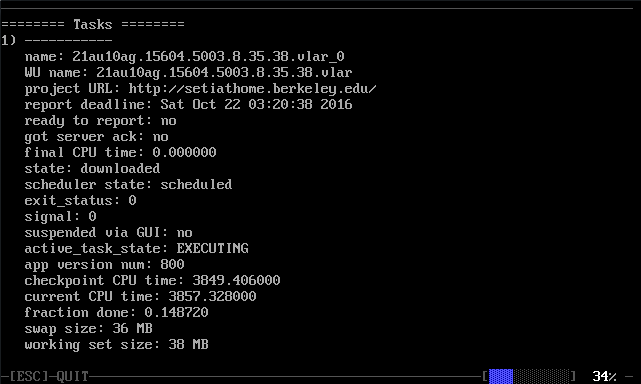 If you're also want to compute for SETI visit this webpage: http://setiathome.ssl.berkeley.edu/

If you're a SySoP and like also to show your running tasks with boinc, use the 'boinccmd --get_tasks' command to print out the status. You'll find the boinccmd executive file in your Boinc install directory.

Running Windows? Try 'boinccmd --get_tasks >tasks.txt'. That will create a file named tasks.txt with all Boinc taskinfos in it.

Happy computing!

Quelle: bbsindex.de / BlackICE BBS / University Berkeley